Step Up to the Medical Weight Loss Challenge
We understand that losing weight is one of the most challenging goals a person works toward. Most people start new diets, weight loss programs, medical weight loss programs or workout routines only to quit after a few weeks because they aren't seeing results, they aren't meeting their weight loss goals, or the methods aren't sustainable. Concerns about weight and body image often lead to other issues such as anxiety, lack of motivation, or even depression. You could also deal with a serious health problem caused by weight gain, such as diabetes or joint pain.
The truth is that medical weight loss requires a lifestyle change. New Health Kansas of Topeka's medical weight loss treatments and procedures can help you achieve your goals and regain your self-confidence. We are ready to walk alongside you and put you on a path to reaching your weight loss goal. It won't be easy, but you'll love your body and your new healthy habits. Contact our clinic for weight loss solutions today!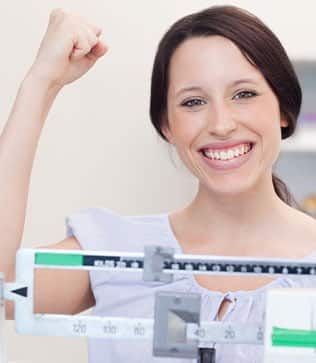 How Our Medical Weight Loss Process Works
At our clinic for weight loss in Topeka, medical weight loss treatment begins with the individual. Our team will design a weight management lifestyle program specifically tailored to your needs. Based on your desired weight and physician recommendations, we have several weight losing program options for you, including up to a 14 week JUMPSTART. A new medical weight loss diet managed and supervised directly by a physician along with nutritional counseling are included in the medical weight loss program. A low-calorie diet paired with daily injections or pills, prescribed by a medical doctor, will allow your body to begin using stored fat as energy. You'll also learn how to properly weigh your food and implement portion control before moving on to the maintenance phase.
The maintenance phase includes monitoring and counseling from our medical weight loss specialists. You don't have to guess about what you are supposed to be doing to maintain your individual results—you will have the guidance you need for sustainable weight loss. Our specialists can help you with:
Meal planning and measuring
Exercise programs
Medical monitoring
Advice regarding low calorie meal replacements
Continuous health, meal, and medical counseling
Healthy lifestyle tips
Healthy Body Medical Weight Loss Effects
Increased Energy Levels
Reduce Risk of Heart Disease/Attack
Controlling of Non-Insulin Diabetes
Reduce Risk of Osteoporosis
Reduce Risk of Anaemia
Joint & Back Tension Relief
Higher Self-Esteem
Overweight & Obese Medical Weight Loss Risks
High Blood Pressure
Diabetes
Heart Disease, Heart Attack
Stroke
Osteoarthritis
Sleep & Breathing Problems
Body Pains & Aches
Difficulty with Basic Physical Functioning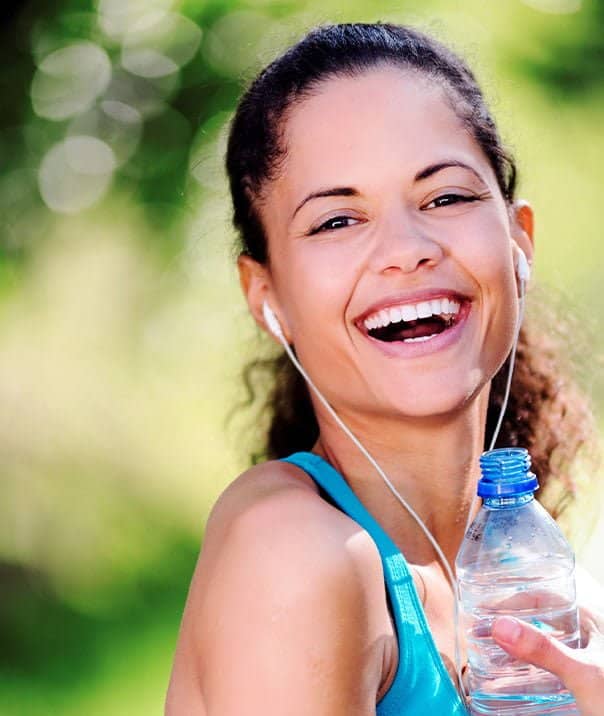 Ben Seitz
Ben weighed 267 pounds at start and is 195 pounds today! Ben lost 72 pounds.
Ben's Story: Ben's been struggling with weight his entire life. He recalls being 12 years old and knowing he wanted to lose weight.
What has he tried? Ben tried cutting carbs, the Atkins Diet, Advocare, Herbalife, the Caveman Diet, and more.
When the light bulb went off (his words): "I was sore or injured all the time... played with my 4 year old and was out of breath... my wife lost her father when he was in his mid-40s to a heart attack. I turned 40 this year!
Ben's Testimonial: "I went to New Health to get my life back on track. When I met them I weighed 267 pounds. They gave me a program to help me reach my goal, but also to transition to a healthier lifestyle."
Ben's New Health Kansas Mission: "You guys seriously changed my life so I'm your advocate for life."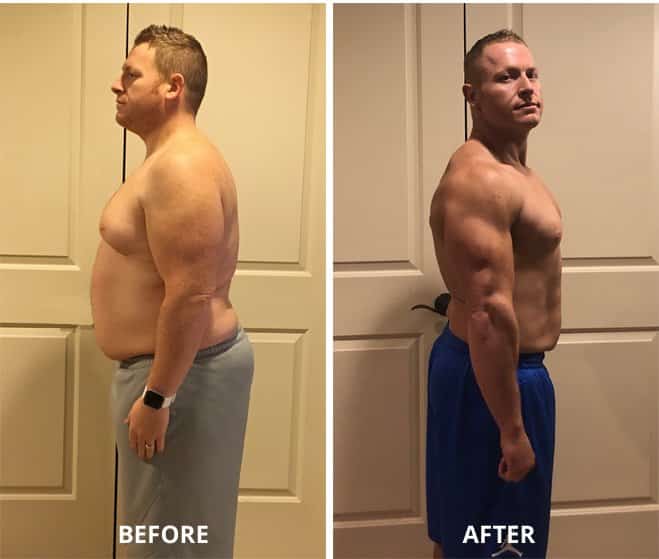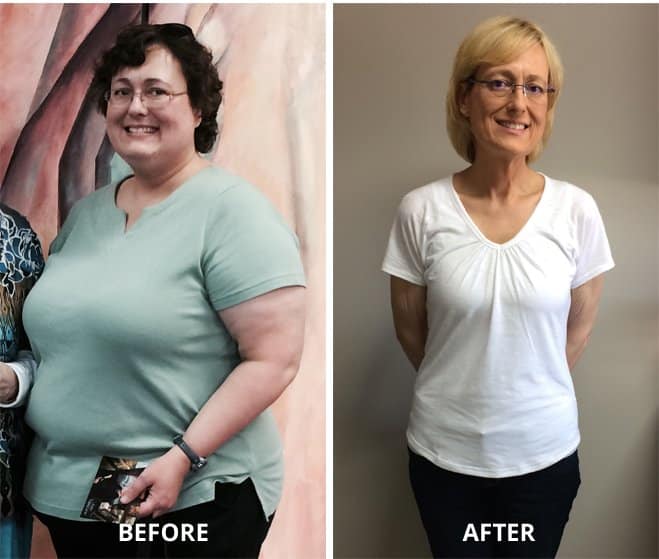 Michelle L.
Michelle weighed 310 pounds at start and is 160 pounds today! Michelle lost 150 pounds.
Michelle's Story: "Steadily, I put on weight since my mid-twenties. I was so discouraged. I tried many different diets over the years and failed. By the time I came to New Health in 2016, I was 310 lbs. Thanks to the extremely supportive New Health team, the prescribed diet, nutrition counseling, cool sculpting, exercise, and hormone balancing, I safely lost 150 lbs. I am so much healthier now and I feel great! Equally as important, I have maintained this healthy weight for the last 2 years. Thank you, Jami Potter and the New Health team. I love my new life and I could not have done it without you!"
Your Medical Weight Loss Journey at Our Clinic for Weight Loss
Everyone's journey is different, but the common denominator in medical weight loss is that it is especially difficult to achieve alone. At New Health Kansas of Topeka, medical weight loss treatment is viewed as a partnership. Our professional staff members have years of experience, and they work as your accountability partners in weight loss: you can lean on us for help until you learn to love your new, healthy lifestyle and want to continue achieving weight loss benefits on your own for the long term. From season to season, we'll be right there with you to promote a lifetime of maintenance and years of good health.
We Are Your Partner in Weight Loss, Helping You Achieve Long Term Success.
Sign Up for Your Weight Loss Consultation Today!
SIGN ME UP
More Health Benefits from Medical Weight Loss
Increased Energy Levels
One side effect of losing weight and exercising more is an increase in your daily energy levels—especially after a workout, which is why it is often recommended that you workout in the morning, rather than the evening, so as to avoid cutting into your sleep time. Weighing less will also help you feel lighter, which may in turn cause you to want to move more, so as to experience how your body feels with less resistance to work against.
Reduced Risk of Heart Disease/Attack
Another result of weight loss is a reduced risk of heart disease or a heart attack, something that's more likely to occur when your body is too heavy for your heart to handle. The stress of carrying a heavier body through the world is reduced when you lose weight, so you are less likely to tax your body's working engine with excess baggage to maneuver, so to speak.
Controlling of Non-Insulin Diabetes
One potential side effect of obesity is an increased risk of developing adult-onset diabetes— a condition that's never pleasant to deal with, regardless of the type. The stress of regulating diet and sugar intake should be enough to dissuade you from putting off weight loss any longer than necessary—no matter how daunting!
Reduced Risk of Osteoporosis
A well-balanced diet and healthy weight can reduce your risk for osteoporosis. According to the Mayo Clinic, excess weight increases your risk for fractures in the arms and wrists, as well. Regular exercise that includes weight-bearing activities like yoga or weight lifting can also help prevent osteoporosis.
Reduced Risk of Anemia
Interestingly, the Cleveland Clinic cites studies that have found overweight people may lose weight if they address low iron in the blood, so it may be helpful to take an iron or B12 supplement to supplement low iron levels.
Joint & Back Tension Relief
Excess weight can put enormous pressure on the knees and hips, so much so that a loss of just 10 pounds can take 30-40 pounds of pressure off the knees. It also naturally follows that back tension will be reduced following weight loss, as many have the tendency to slouch and put excess strain into the neck and shoulders, as well as mid and lower back areas.
Higher Self-Esteem
Perhaps a more indirect side effect of weight loss may include improved self-esteem: clothes may fit better, for example; and people may feel less self-conscious without as much excess weight to make them feel self-conscious or as if they stand out, unnecessarily.
More Side-Effects of Overweight and Obesity
Sleep & Breathing Problems
A common side effect of obesity is sleep apnea, which is exacerbated when excess fat in the neck area blocks a person's upper airway and compresses the chest wall, causing reduced room for air to flow, resulting in reduced air to the lungs and snoring. However, the more harmful side effect of sleep apnea is the loss of quality sleep, which can result in sleepiness during the day and reduced productivity and alertness, as well.
Body Pains & Aches
More weight equals increased strain on joints and muscles, on a daily basis. Therefore, it follows that weight loss will afford your body more comfort from carrying less weight.
Difficulty with Basic Physical Functioning
In general, weight loss will give you more energy and make it less difficult to get through your day, whether as a result of having to consume fewer calories or giving you more energy from better sleep. You'll also be less likely to suffer from fatigue or depression as a side effect of obesity, since physical activity will be easier after your weight decreases.
New Health Kansas Introduces EmpowerRF Tone
New Health Kansas incorporates state of the art Inmode EmpowerRF technology to target specific muscles that will refine the look of the abdomen. In addition, this amazing machine is used to improve and restore muscle tone and strength of the buttocks in as little as 2 weeks!
Tone
Tone is a unique, hands-free device that rests on an area of the body and uses electrical muscles stimulation (EMS) to imitate muscle contractions. The user friendly treatment process allows the patient to monitor their progress through audio and visual cues. Tone is great for:
Stengthening Muscles
Improved Muscles Tone