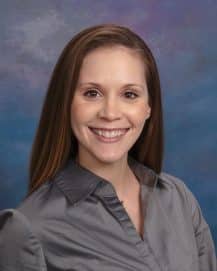 Theresa Linski
New Health Kansas Advanced Practice Registered Nurse
Theresa Linski, APRN, is our latest addition to New Health Kansas' offices in Lenexa. She comes to New Health Kansas with a variety of specialties and will allow our Lenexa facility to offer additional appointments and increased availability of services in 2020.
Theresa has been in the nursing field for over 13 years, since graduating from the UMKC with her BSN in 2006, and her MSN – Family Practice in 2011. Theresa started her career working in the NICU and in a Vein Clinic. After two years working in family practice, she found herself back in the Vein Clinic treating varicose veins.

Beyond veins, Theresa also specializes in hormone replacement, weight loss and sexual dysfunction. With her diverse background, she is an excellent addition to the New Health Kansas team at our Lenexa location.
Theresa currently lives in Kansas City with her husband and two children. To book an appointment with Theresa, visit newhealthkansas.com.